TAFF voting using Paypal
UPDATE: I've just checked this and it seems the format may have changed slightly since I set this up. The first page gave me the name of the administrator, an identifier (Taff) and a box to enter the amount. I entered a test amount, pressed continue and then was invited to log in. It then processed the payment without offering the option to 'add' so that I could add a message. This makes it slightly more awkward to vote but I would suggest to still pay this way and then email one of the admins with your voting preferences.
I've left the orignal instructions below in case we manage to fix it and return the message box.
You will need a Paypal account for this, if you don't have one you can sign up here.
To Vote
Click on one of those nice blue buttons inscribed with the words 'TAFF vote'.
Fill in the amount to donate to TAFF in the 'item price' box (minimum of 3 pounds, 3 Euros or 3 dollars).
Fill in your password in the box that says 'Paypal Password'.
Click 'log in'
You will see this page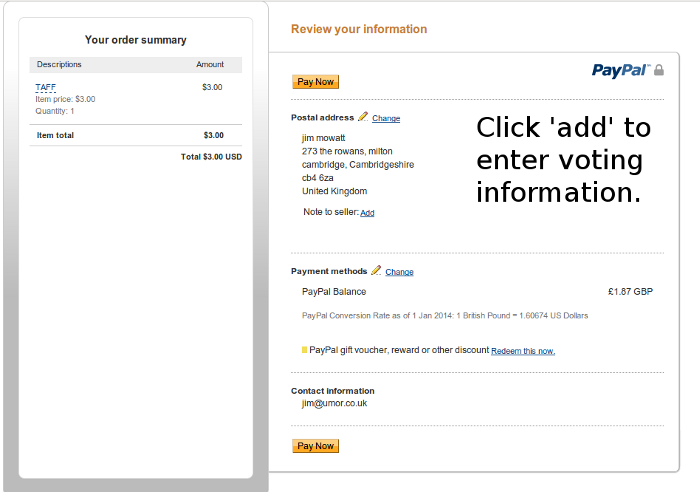 Click add to enter voting information ranking the candidates 1,2,
Also enter your contact details.
Click 'save'
Click 'pay now'
Celebrate with your beverage of choice.
The contact details are: Name, Address, Email/phone.
The voting options are: Sarah Gulde, Alissa McKersie, John Purcell, Hold Over Funds, and No Preference. Please rank candidates with 1, 2, 3 etc. where 1 is your first preference.
If you think your name may not be known to the administrators, please provide the name and contact details of an active fan (not a fan group, a candidate, or one of their nominators) who is known to the administrators and who can vouch for you being an active fan, eligible to vote. Voting in the 2017 race is open to anyone active in fandom before April 2015.
Deadline: All votes must reach the administrators by midnight (Eastern US time) on Saturday, March 4, 2017.